Chiang Mai is one of the best-known destinations for tourists and expats visiting Thailand.
British travellers will often complain that they can't find a decent full English breakfast while abroad.
It's one of the most famous 'menu breakfasts' and often sought by British holidaymakers or expats, no matter where they are.
The definition of what makes a full English breakfast may vary from one person to another. Generally, the meal includes sausages, mushrooms, bacon, eggs, tomatoes, beans, fried bread, with coffee or tea.
What type of accompanying sauce is a topic of hot debate!
If you are adventurous though, it will also contain black pudding.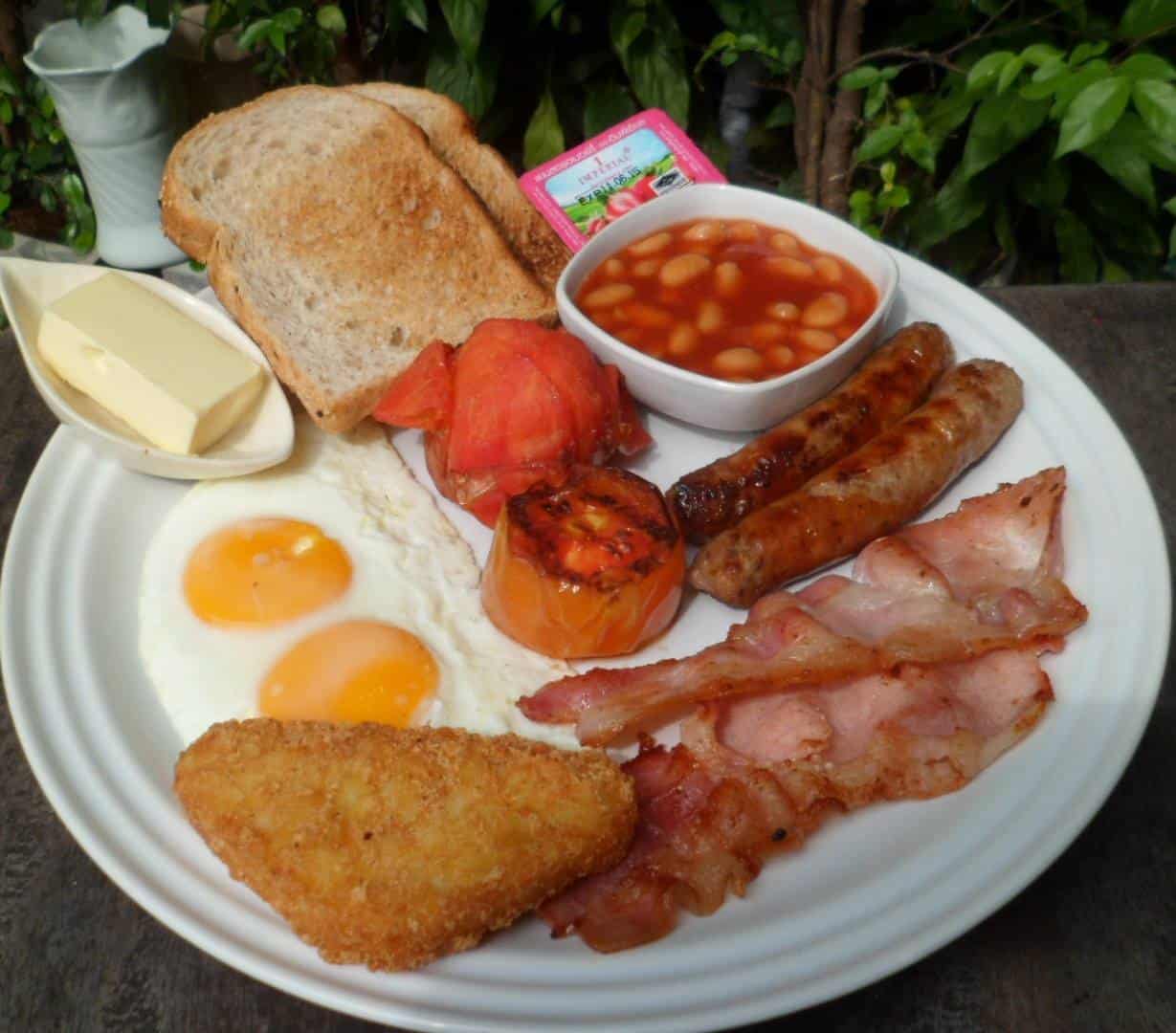 The items may be interchanged slightly, and if you are really hungry, this is a meal that will leave you really satisfied.
Although not even remotely one of the healthiest dishes, it's one of the best when done right.
English people always like having a taste of home whenever they are abroad. The full English breakfast is a meal that has been enjoyed by Britons for centuries and makes us feel at home.
Hence, you will often find them visiting restaurants in Chiang Mai to have a good breakfast, where there are many great places.
Here's my list of the best places to get one.
More importantly, let's find the places that get the sausages right!
The Archers (Old City)
One of the best places where you can enjoy a full English breakfast is The Archers Restaurant and Bar. It's located along Ratchapakanai Road, in the Old City of Chiang Mai.
Dining options offered in the restaurant include breakfast, lunch, dinner, full bar, free Wi-Fi, outdoor seating, reservations, and more.
The Archers is a great choice for English and Thai cuisines and the English breakfast served at The Archers is what any Brit would need after a night out in Chiang Mai.
Seats in the restaurant are very comfy and they have a good selection of British bitters.
The price for an English breakfast is good value and the other British cuisines affordable.
Prices for drinks are also competitive and the restaurant owner and staff are very friendly.
The Archers only accept cash payments, so remember to have enough Thai baht with you. The restaurant operates from Tuesday to Sunday from 9 am to 11 pm.
With all its great services and mouthwatering English cuisines, The Archers is a haven for British tourists and expats in Chiang Mai.
Sausage King (San Sai)
Sausage King Garden and Restaurant is located in San Sai, North East of Chiang Mai.
It's a bit hard to find the restaurant but you can hire a taxi or use google maps to get directions.
Sausage King supplies many of the local restaurants with sausages and lucky for you and me, they also have a cafe where you can purchase a fabulous full English breakfast.
The menu at the restaurant is fantastic and has a great variety of western cuisines, including the famous English breakfast, meat pies, and sausages.
The restaurant also has a decent selection of Thai food. However, it mainly deals with non-local foods.
Food is always freshly prepared. The owner and staff are friendly and helpful.
At 99 baht this is probably the best value breakfast you will get amongst our picks. It includes two decent sized bacon rashes, two sausages, two fried tomatoes, two eggs, beans and two slices of toast.
It comes with fried potato rather than fried bread and a good strong coffee.
Many expats regard this as a hidden gem, so best check it out.
Sausage King is open daily from 8 am to 8 pm. They accept both cash and card payments.
Breakfast World
This is a German American cafe in Chiang Mai where Thai people cook western food.
On paper, this could go very wrong.
It doesn't.
Close to Tha Phae gate, Breakfast World does an amazing full English breakfast. It opens at 7 am till 5 pm on a daily basis.
The full English comes with two varieties, the standard and superior options.
Both come with sausages and bacon that wouldn't look out of place in the UK, amongst the standard ingredients. The superior option comes with a pork chop!
With great reviews, this is a place you have to check out and one of my personal favourites.
Bam Boo Cafe
In the heart of the Old City is the well-reviewed Bam Boo Cafe.
Not a large cafe but it is definitely worth a visit for that full English breakfast.
For around $3 you can have sausages, bacon, eggs, toast, baked beans and a good quality coffee!
Opening at 7 am and closing at 11 pm every day as well, it should be open for when you fancy a breakfast.
Gekko Garden
Situated in a convenient area of the city and open from 8 am until midnight, Gekko Garden provides a handy eatery for anyone up early or looking for a place to eat after wandering around the Night Bazaar.
It provides a decent atmosphere and is a small haven for simple Western food should you be getting tired of rice and noodles.
They do a reasonably priced full English breakfast and are well worth checking out.
Wild Boar Restaurant and Bar
In the very heart of Chiang Mai's nightlife area and open from 8 am until 1, The Wild Boar Restaurant serves a full English Breakfast all day, every day.
Situated at the beginning of Loi Kroh road it's a handy place to get to the Old City as well.
You get 2 sausages, 2 tomatoes, 2 bacon (or ham), beans, home fried potatoes, toast, all with a coffee, orange juice or pot of tea.
All for the very reasonable price of 190 baht.
Conclusion
Chiang Mai is a city with many fine places to have a quality meal. Nobody has eaten at them all.
What are my personal favourites? I'd put The Archers at the top of my list (as I've done in this post) with Sausage King and Breakfast World in at joint second.
Do you have a favourite place to get a full English breakfast in Chiang Mai? Let me know in the comments section below.