Chiang Mai is well known to travellers and residents for various different attractions.
The city really should be known as the 'market capital of the North' as walking through the streets you will stumble upon them endlessly.
The markets in Chiang Mai sell almost anything you could desire.
Whether you want souvenirs, clothing, flowers, amulets, spices or freshly cooked food, there will be a market for you to visit.
Markets in Chiang Mai can be general, like that of the night bazaar or can be specific to a need, like the food market at Chiang Phuek gate.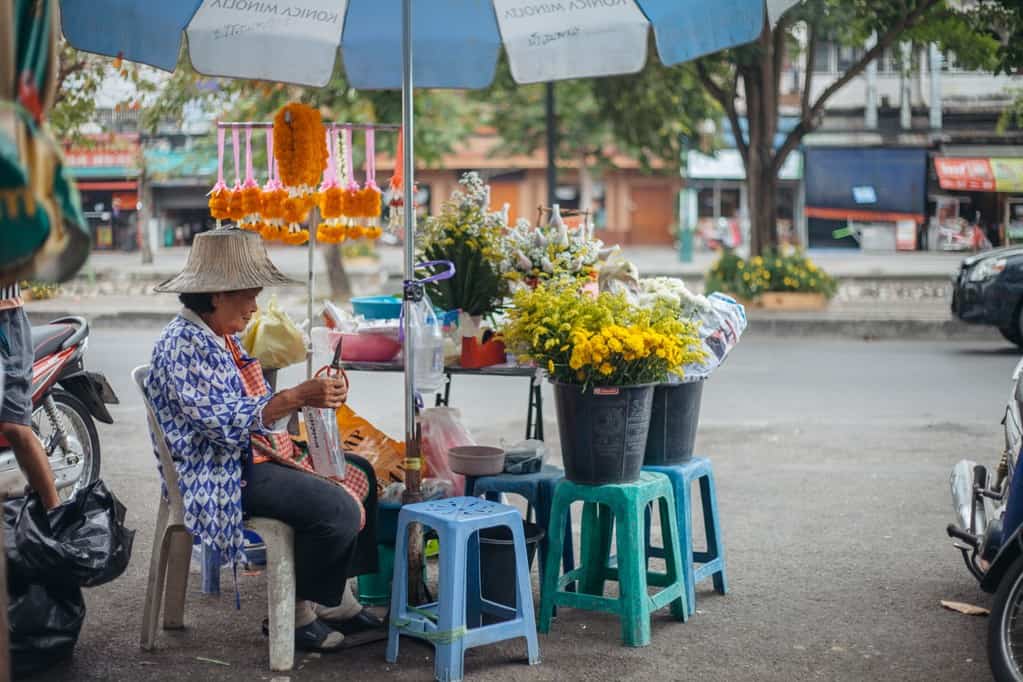 There is truly a diverse range of markets in Chiang Mai, in both size and range of products. There are plenty around the weekdays but the weekend gives an extra dimension to your shopping as some very large and famous ones get started.
Here are 13 of the Best Markets in Chiang Mai (with Photos, Videos & Maps)
Warorot Market
Warorot Market (Kad Luang) is a multi-storied shopping centre on the East side of the city and North of the night bazaar.
It opens at 5 am and closes at 11 pm. It is the largest market in Chiang Mai, happens daily and is comprised of three markets in one.
Warorot, Ton Lam Yai and the open stalls in between.
You will find food on the ground floors and the upper floors are mainly clothes.
It is a very distinctive market and has a lively, vibrant atmosphere with traditional shops and market vendors selling anything from food, clothes, souvenirs, flowers, ceramics, and antiques.
If you'd like to see a real authentic market with a mix of Chinese and Thai culture (this is where the locals go to shop) then the Warorot market is a must-see on any visit.
Walking Street Markets
Walking street market is a night market on Sunday that runs along Rachadamnoen Road from Tha Phae Gate to the Wat Phra Singh temple.
It opens around noon but really gets going as the sun goes down and will continue well into the night.
The stalls open around late afternoon and the entire length of the market is just over a kilometre.
It does branch off and makes use of the local side streets as well. You can normally drive down Rachadamnoen road during the week, but for the purpose of this market, the road is closed off for road traffic on these days.
It would normally take 15 minutes to walk the distance but when the market is on it will take considerably more.
These markets are very crowded and are probably the best known in Chiang Mai.
The street is double lined with vendors selling all manner of merchandise.
All the shops remain open so there are plenty of places to stop and eat while checking out the souvenirs.
During tourist season you will be walking very slowly down the street as they are completely packed out with visitors.
This market has the widest array of goods though of any market in Chiang Mai.
Saturday Night walking street market takes place on Wua Lai road from 5 pm onwards.
This is a smaller market than the Sunday night market and grew from the early silversmiths of Chiang Mai.
While tourists frequent the Sunday night market there are more locals at the Saturday night market.
There are many street vendors selling all kinds of culinary dishes amongst the silversmiths, handicrafts, and souvenirs.
Saturday night walking street has a more neighbourhood feel and is less chaotic than its bigger brother.
It stays open quite late so you don't need to get there early.
Chiang Mai Night Bazaar
One of the most famous markets in Chiang Mai is the seven day per week, Night Bazaar.
Many thousands of people arrive nightly to walk and browse the simply enormous selection of vendors plying their trade.
The epicentre of this market is the cross between Loi Kroh road and Chang Khlan road.
Whether you are looking for clothes, souvenirs, artisan gifts or delicious street food this market has everything and if you want to pick up a fake Rolex or Gucci handbag this is the market for you.
During the day it looks like many of the streets in Chiang Mai but late afternoon the vendors arrive to double line the street with their stalls.
By 6 pm it will be well and truly open and closes around midnight.
Off the roads, down the side streets, the market still sprawls. There are undercover areas where shops and restaurants are open for you to shop late into the night. There are even entire halls dedicated to serving food.
The Night Bazaar contains many goods that are made locally, from carved figures, some of the most beautiful paintings you will see anywhere, all of which is intermixed with well known big chains serving coffees and food.
There are many goods at the Night Bazaar that are brought in from the local hill tribes.
Although famous, the night bazaar is mainly filled with tourists trying to find authentic goods for souvenirs.
Anusarn Market
At the South end of the Night Bazaar is the Anusarn market.
It has the same opening times as the Night Bazaar and is open until midnight every night.
During the day all the night stalls for the Night Bazaar are stored here and as they depart the mobile vendors move in.
There is truly a diverse array of food here and not just Thai food. There are Indian restaurants, burger vans, and Turkish kebab eateries, as well as an Irish pub.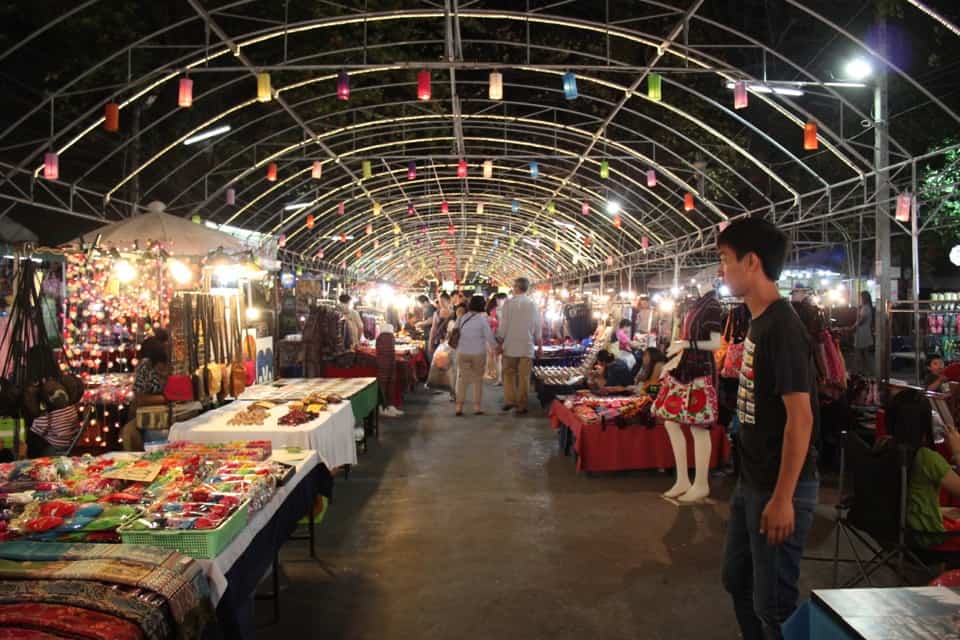 Somphet Market
Somphet market is located on the Northeastern side of the Old City and is a traditional Thai food market.
You will find mainly vegetables, rice and various meats such as chicken and pork here.
There is the occasional household store and it is used primarily by people buying fresh produce to cook with either at home or in their restaurants.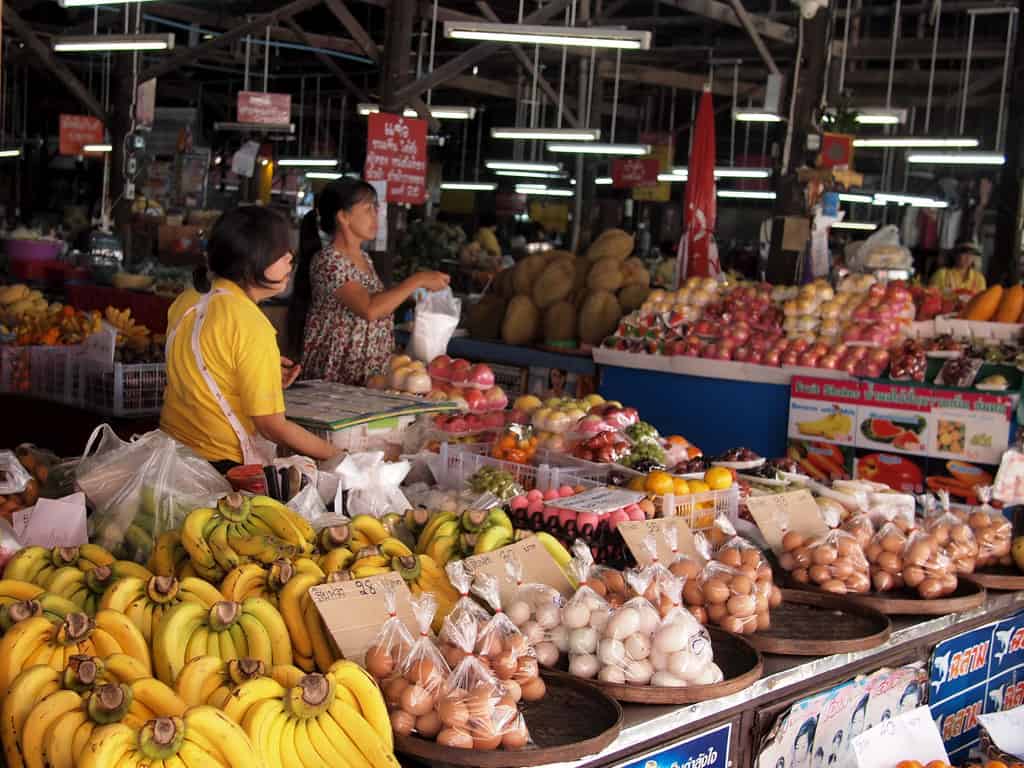 Maya Market / Kat Rin Kham Night Market
Right next to Maya mall, slightly further up Huay Kaew road is Kat Rin Khan night market.
Around 6 pm each night people start to arrive to peruse the open concourse of vendors selling backpacks, clothes and food.
It closes around 11 pm and compared to the other markets in Chiang Mai is quite small. That being said, it'll still take you 45 minutes or so to wander around.
Some of the shops start to close around 10 pm and the place winds down quite slowly so after 7 pm until about 9.30 pm is the best time to arrive.
Despite being near Nimman it's not routinely frequented by tourists but is a good place to get t-shirts and everyday items.
Malin Plaza
There are actually two markets for the University crowd in Chiang Mai. As you might expect they are both near, and mostly frequented by the local university students.
The main one is off the Huay Kaew road and caters for the many students in Chiang Mai who need clothes, food and phone cases.
Malin Plaza is primarily a huge clothing market. Its vendors are clothing designers and clothing manufacturers primarily based in Thailand and the items on sale here you'll rarely find at other markets.
Local Thai people and students visit this market to buy fashionable items of clothing at incredibly low prices.
There any many shops and the whole complex opens around 6 pm till late evening you can spend a good 2-4 hours exploring this market.
It's not far from Nimman so if you are in the area or need some clothes then make sure to check out Malin Plaza.
Baan Tawai Market
A 20-minute drive towards the Hang Dong province lies the truly wonderful market of Baan Tawai, around 15 km Southeast of the city.
If I said you could get a 4ft tall elephant carved from teak wood here you would instantly get the impression of what this market is all about.
If impressive handicrafts are on your list of things to see then this market is perhaps a must see.
Baan Tawai is a traditional handicraft village that dates back centuries.
The entire village is the market.
If you're looking to shop then it's best to remember the transport you came in on and its carrying capacity.
Should you fancy a 4ft elephant, most shops will offer to arrange the shipping to your country of choice.
JJ Market (JingJai Market)
A little out of town on the Atsadathon road lies the beautiful JJ market.
This is a truly authentic market offering many traditional Thai treasures, mostly handcrafted.
Being out of town and not on any common routes there are almost no tourists here.
You can visit during the day as it opens around 9.30am and closes around 6 pm.
If you have a love of antiques, handcrafted figures, and furniture, then this is certainly a place for you to come to.
This isn't for cheap tat tourist gear, this is impressive craftwork.
Flower Market
Facing the Ping river on the East side of Chiang Mai is the very colourful flower market.
You can arrive any time you like as well, as it's open 24 hours every day.
There are rows upon rows of vendors with decoratively laid out stalls selling all manner of flowers. You can buy individual flowers, bouquets or garlands from most, and also the many flower shops in the same location.
You can see the garlands being made by the craftswomen sitting behind the open displays.
If you need orchids, roses or any of the types of flower that Thailand has to offer, then this is the place to go.
Taking a walk down by the river walking past the colourful stands is one of the very true Thai experiences you might want to have while in Chiang Mai and it will certainly make for some great photos.
Just round the corner, there's a fruit and vegetable market as well for those that need a bite to eat.
Thippanet Market (Chiang Mai Amulet Market)
This is a small market near the super highway that opens at 7 am till early afternoon on Thursday.
It is perhaps the most unique of all Chiang Mai markets and a haven for trinket shoppers.
Buddha figurines, silver and gold amulets along with necklaces braces and talismans are all available here.
Precious stones and gems can all be found here, polished and made into a piece of jewellery.
You might even call this market a little bizarre as you can purchase eyebrows or blood drops from a Thai monk.
Like I said, unique.
The handicrafts found here have an authentic quality dating back, to what is said to be, thousands of years of historical tradition.
A market not frequented often by tourists, it offers a truly unique experience for those taking the time to travel out to this market.
Chiang Mai Gate Market
Chiang Mai Gate Market is located on the South side of the Old City and is what a true local Thai-style market looks like.
If you want to visit the most authentic market while in Chiang Mai then this is the one.
However, Chiang Mai Gate is actually two markets at the same location each day.
You will have to be up early for the first one as it starts at 4.30 am every morning and finishes around midday.
The second starts late afternoon just before the sun goes down and continues till midnight.
The morning market is a truly authentic Thai experience.
You'll hardly see any Westerners at all.
It's a covered open-air food and drink market where you can get breakfast and a coffee. You can watch local Thai's picking up their foodstuffs and immerse yourself in the historical culture here while sitting on the many plastic dining tables absorbing the atmosphere.
There are vendors lined up against the Old City roads selling all authentic and locally produced food. You can buy raw fruit and veg for cooking, get fruits prepared for you and eat local Thai delicacies like sticky rice and pork, or even a Pad Thai.
Chang Phuek Gate Market
On the Northern side of the moat at one of the city's most famous landmarks, the Chang Phuek gate lies perhaps the best food market in all of Chiang Mai.
It's an open-air food court where various vendors produce and cook all manner of delicious soups, noodles, pork, and rice as well as chicken goujons, sticky rice, and even omelettes.
You simply pick a stall, order whatever you desire food or drink wise and then pick up one of the plastic chairs and dine al fresco.
It's a cheap and extremely delicious market serving a wide variety of foodstuffs. You can eat quietly, kick back and watch the many taxis and songthaews drop off the tourists who visit the place on a nightly basis.
Kad San Kaew Market
This is a very small food market directly outside the Kad San Kaew shopping centre on the Huay Kaew road.
Starting late afternoon it continues till around 10 pm and is almost exclusively a street food market.
Driving too fast past Kad San Kaew you could miss this little gem.
It sells Thai food only and you won't find too many tourists here.
Conclusion
So that's my list of the top markets in Chiang Mai that you should do your best to check out.
Can you think of or have you visited any markets that I may have missed out?
Leave a comment below and let me know.