If you are relocating to Thailand or visiting Thailand for an extended period of time, you will soon realize that getting access to your money may cost a lot in fees. Hence, you will need to open a bank account as a foreigner.
Most banks will require you to have a work visa while others can give you an account using your tourist visa.
Even though you can open a bank account in Thailand as a foreigner, it's still quite tricky.
Here is what you should know about opening a bank account in Thailand.
Policies, Rules and Eligibility
Banks in Thailand have different rules and policies when it comes to giving bank accounts to foreigners. While one Thailand bank may refuse you, another bank or even branch will not.
Most policies and rules depend on bank employees and branch managers.
Procedures also differ.
While some banks will allow you to open the account remotely, others will require you to do it in person.
Some banks will verify your details the same day while others have a certain waiting period. There can be a different policy from the same bank but an adjacent branch.
When you want to apply for a bank account, the bank will tell you about your eligibility and the documents you will need.
To be eligible to get a bank account, you will be required to have documents such as:
A Thai driving license

A Thai house registration or letter from a landlord

A work visa or a letter showing you are qualified to get a work visa

A tourist or student visa

A reference letter from a Thai university or embassy

A reference letter from a "reputable" Thai citizen or a high standing Thai organization

Communications or letter from your current bank to the specific Thai bank

Photo ID or passport
Although most banks will give you a detailed guide on the documents you should bring to the branch, it is recommended to bring more than what is required.
For instance, if the branch asks you for another bank statement or utility bill, carry different utility bills from different companies and bank statements from more than one bank.
If they ask for a photo ID, bring your passport and driver's license too, and any other documents that may have your photo ID.
Student documentation or work permits may be necessary to carry along.
Bringing more documents than required will assist you in avoiding problems and get the bank account up and running as soon as possible.
For instance, one type of documentation may be rejected and you will need some form of a backup document.
Extra documents will also prove to the bank that you are in Thailand for an extended period and that you really need an account, especially when you need one with a lending facility.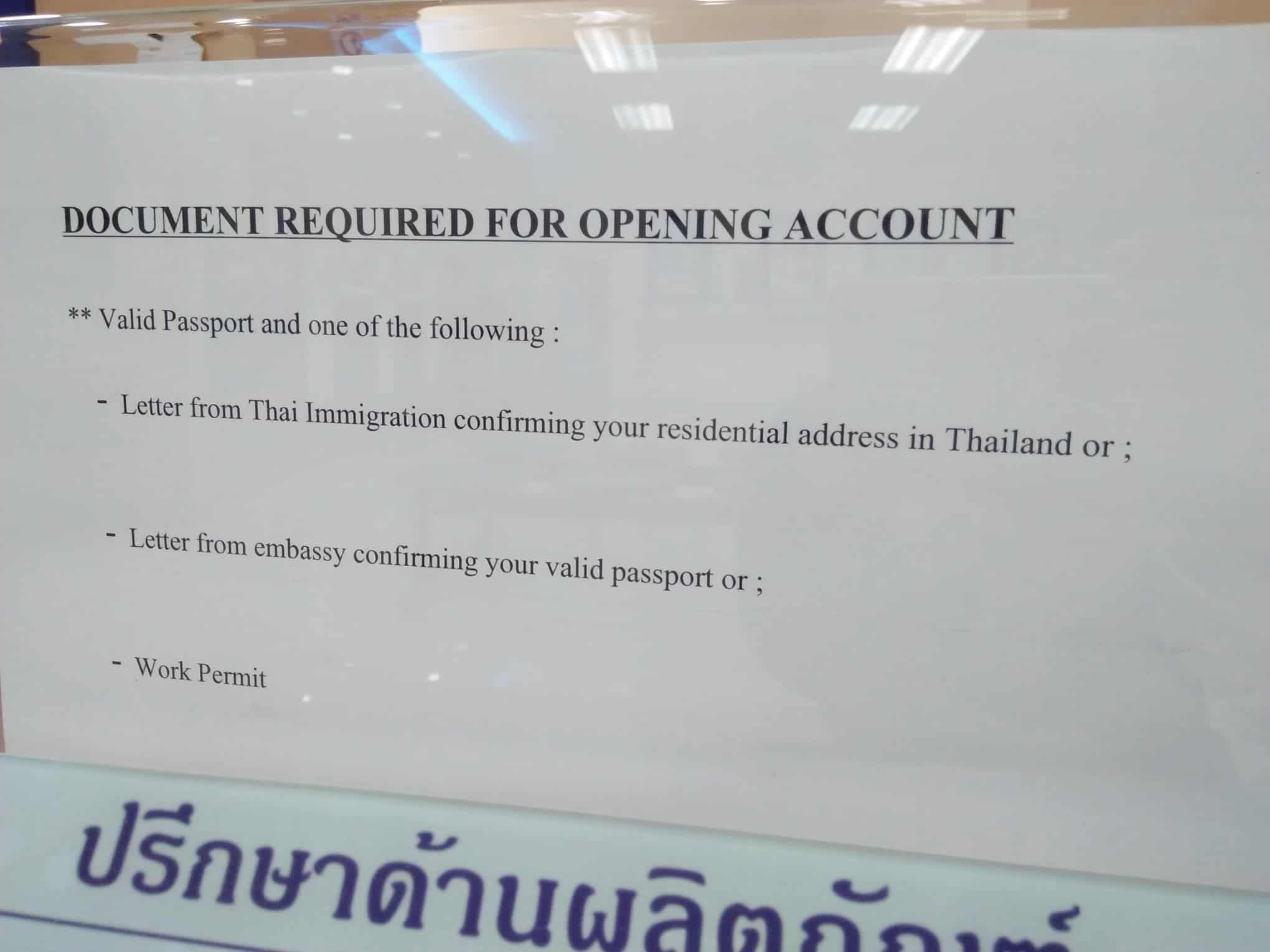 Which Bank Should You Choose?
Not all Thailand banks are friendly to foreigners.
There are specific banks that hold a good reputation for being more lenient and friendly to foreigners than others.
Depending on your immigration status and specific needs, you can choose from the following banks as a foreigner.
Bangkok Bank
Bangkok Bank is Thailand's largest bank and is traditionally known as being the friendliest bank to non-residents.
It has great exchange rates for international wire transfers and Bangkok Bank has many branches across the country.
Bangkok Bank also has branches in New York and London which means you can link a PayPal account to a western branch and link the accounts for transfer, making the process simple and just waiting a few days for your money abroad to turn up in Thailand.
Kasikorn Bank
Kasikorn Bank is also great for foreigners.
They issue cheque books to non-residents although cashing foreign currency checks can be a bit tedious with the bank.
Different branches of Kasikorn Bank may treat foreigners differently, thus you may need to hunt around for some time.
Citibank
Citibank is a worthwhile option for foreigners, especially when you want to do cross-border banking frequently.
Nonresident depositors who may deposit more than 3 million THB with Citibank get their account upgraded to a gold status.
Their credit cards can earn you points to redeem with Thai Air.
CIMB
CIMB is a Malaysian bank group that also has branches across Thailand.
You can open a bank account with them using a tourist visa alone and they also allow foreigners to use their internet banking services.
You will be required to place an initial deposit of 1000 THB and pay a debit card fee.
Other Thai banks that work well with foreigners include:
The easiest type of account to open as a foreigner is a savings account especially when you don't have a work permit.
If you have a work permit, you will be eligible to choose account types such as fixed term accounts, current accounts and foreign currency accounts.
Benefits of Opening a Bank Account in Thailand
Once you open a Thai bank account, you will enjoy multiple benefits such as:
Lower ATM Withdrawal Fees
If you are using your overseas card to withdraw money from local Thai ATMs, you will be charged extremely high fees, currently at the time of writing this article, 200-220 baht per ATM withdrawal.
With a Thai bank account, you will be able to withdraw money cheaper than using your overseas card and be exempt from ATM fees at select ATMs.
No Conversion Fees
By having a Thai bank account, you can get paid into the account using local currency.
This way, you will avoid currency conversion fees that you would otherwise incur when being paid in a foreign currency to your home country bank account.
Online Banking
In case the bank you have chosen offers online banking, you will easily be able to do transactions online without visiting your branch.
Many banks in Thailand also offer easy mobile banking via dedicated Android and IOS apps.
It's Easy to Make Local Purchases
Having a bank account in Thailand will make it easier to buy items locally especially with a debit card.
You can also make local online purchases with your Thai debit card and m
aking local payments using a debit or credit card is better and safer than carrying cash around, especially when making large transactions.
There are many local merchants who accept Thai bank cards including restaurants, retail outlets and shopping malls.
Additional Information
With that said, opening a bank account in Thailand as a foreigner may be slightly inconvenient, but it makes life a lot easier.
Thai banks have different rules and requirements but you will still find a bank that will welcome you as a foreigner.
Ask around or put a post on social media groups in your area. Ask for a specific branch where the manager is foreigner friendly. 
Despite the rather hit and miss approach in popular areas, it should be possible to open a bank account with a tourist visa and a passport.
The more integrated you are into Thai society with your visa status (ie marriage visa, retirement visa, education visa etc) the easier it should be, but tourists can and do get them.
The Asian culture is largely one of saving face and politeness.
Be polite and respectful when talking to the staff and wear appropriate clothing that reflects the fact that you respect their position.
If they are trying to say no politely then ask them to direct you to a branch which is more suitable to your circumstances.
Out of Province Fees
As well as the ATM withdrawal fee (at select ATMs) there is also an 'out of province fee' for using an ATM card. So if you get your account in Bangkok, but settle down in Chiang Mai you will be charged around 15 baht each time you withdraw cash from your Thai bank account.
Therefore, it's sensible to get the account in the province where you'll be spending the majority of your time, assuming you only want one account.
If you move province you will need to notify your bank by visiting a branch in the province where you initially opened your account.
Conclusion
For stays of 2 months or less it probably isn't worth the hassle, but if you plan on staying for a good length of time then setting up a Thai bank account should be a top priority.
Thailand is still largely a cash based economy for foreigners, especially on the street.
Hotels and big establishments will definitely take visa debit cards but a small hardware store won't.
Neither will most street vendors.
You will certainly need access to cash in Thailand and a Thai bank account starts to look more like a necessity than a nicety the longer you plan on staying.