So you've arrived in Chiang Mai.
All is well with the world as you settle in and try to get comfortable in your new surroundings.
The City is new and your head is awash with ideas and places to visit.
With an almost endless supply of things to do and places, you can visit you will need to get around the City comfortably and safely.
Here's our list of all the available options.
Walking
Often overlooked and definitely the cheapest of all the options but you have to remember Chiang Mai is actually quite a small City.
The Old City is a square block with a moat taking you along its path.
Traversing the City doesn't take too long either. Go to google, type in 'Maya Mall to Thapae Gate' and click the walking tab. You will see it should take you around 45 minutes to get from the top of Nimman to the bar area with the nightlife.
The things to consider are the heat that you are walking in and if you have never been to Asia before then the sidewalks and pathways are not evenly smooth surfaces.
Often your path will be blocked by debris or a row of scooters so you may need to step briefly into the road.
Be aware that coming from the West you will have a sense that this won't be dangerous because otherwise there would be signs from a health and safety department.
In Chiang Mai – there won't be.
Always remember you are stepping onto a road to continue your journey.
So bring water, keep your wits about you and you will be fine.
Considering a lot of people work at a laptop all day, walking to where you need to go is often a good way to exercise and keep healthy.
Mobike
Mobike was introduced in 2017 to Bangkok and was such a success that they have moved operations very recently to their second Thai City, Chiang Mai.
Mobike, which started in Beijing is a bicycle sharing platform via a smartphone. Essentially it's like Uber with pedal bikes.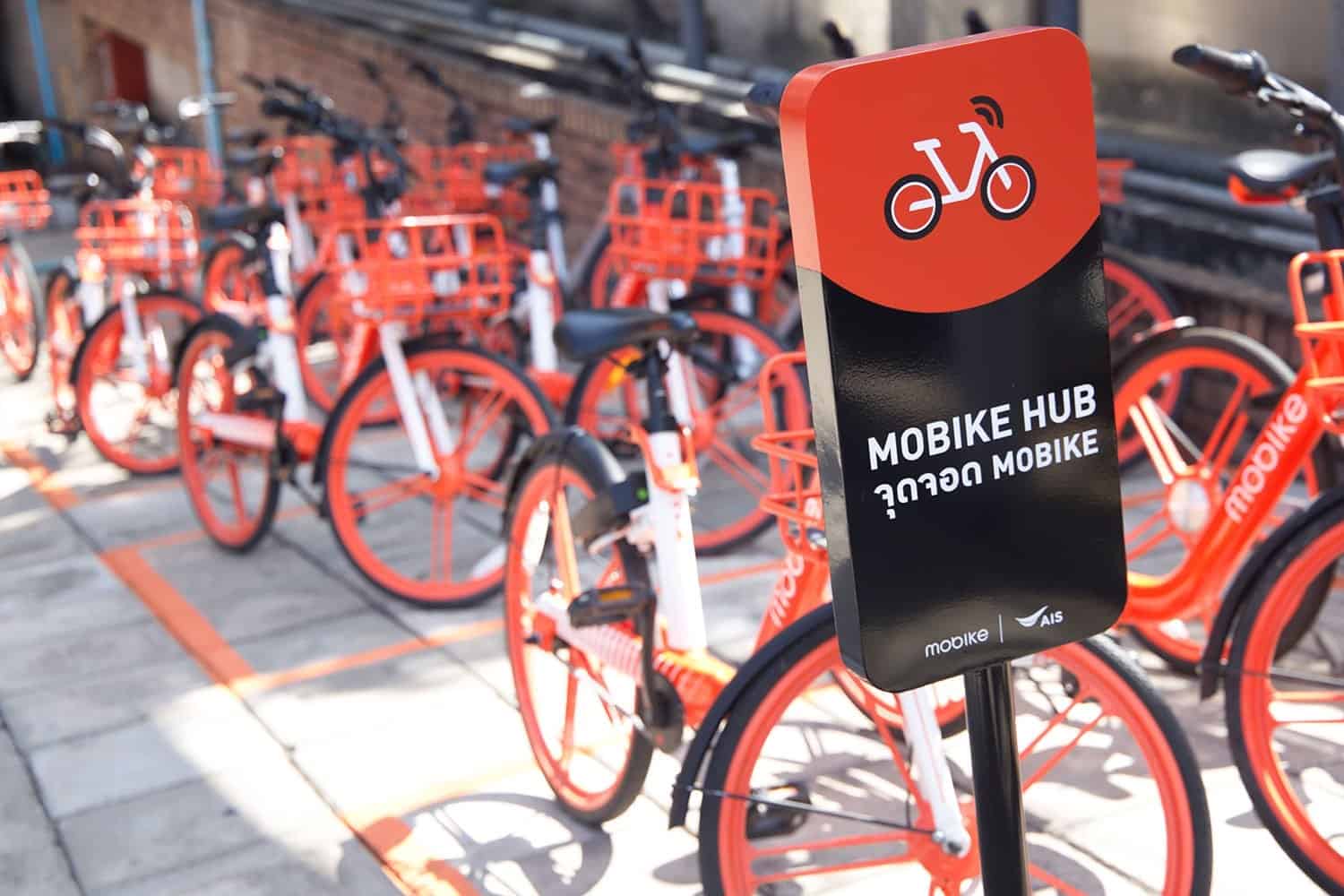 The bikes are single geared pedal bikes and have a GPS locator in with an electronically applied lock on the rear wheel.
Using them is amazingly simple.
Download the Mobike app and load your account with some money. Use the app to locate the nearest Mobike (you won't be very far away from one I promise) and walk to it.
You can identify a Mobike as they all look the same, with their very distinctive orange spoke wheels and shopping basket at the front.  Scan the code on the bike with your phone, the app will unlock that bike and you have use of it at a rate of 10 baht per half hour.
Pick one up where you want and leave it where you want. The app registers all locations for the next user and there are plenty of bike parking lots where you will find a plentiful supply.
We still await seeing a location registered as being in the middle of the moat by a clumsy user.
Alternatively, if you are here for a while you could have a look at the secondhand groups on Facebook and purchase a pedal bike.
Songthaew (pronounced Song Tao)
If you are new to Thailand then this option will be an interesting addition to your travel options.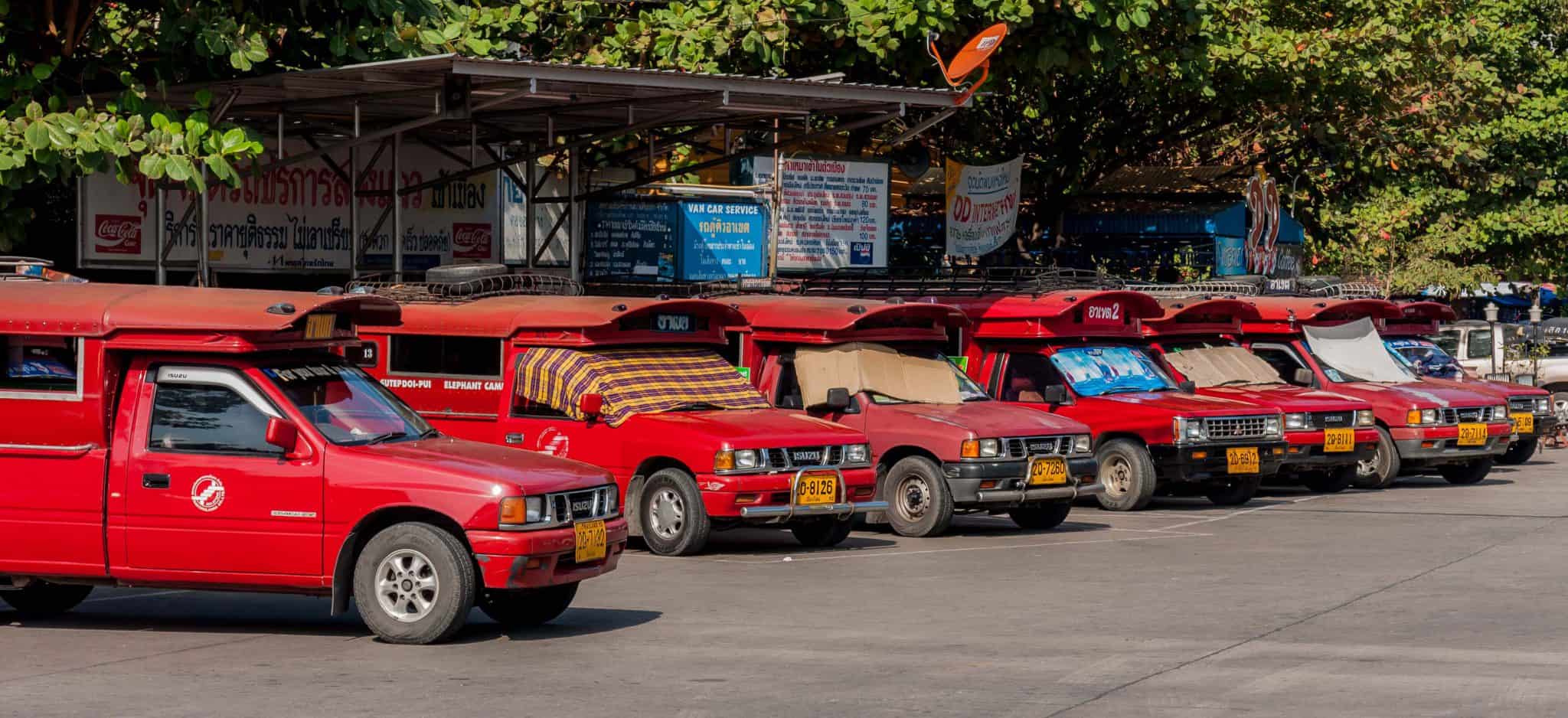 Some are parked up and some will be in motion. Stand still by the side of a road for too long and one will drive by, slow down to see if you want a ride and then carry on if you don't flag it down.
Having a capacity of around 10-12 people in the back, the correct way to think of these is a cross between a taxi and a bus. They drive around on rough routes on no particular schedule all around the City, all throughout the day.
As a foreigner, they will often slow down on the supposition that you want a ride but you can flag them down like a taxi as well, and indeed you should, to alert the driver that you want a ride.
Once you talk to the driver and name your destination he will then assess whether your destination is possible (there may be 10 people in the back going in the opposite direction). Normally if it isn't too far (ie within the City) and you're standing on the correct side of the road, so the Songthaew's natural direction is the same way as your destination, you will then be given a price.
If you agree, then you can get in the back and pay when you depart.
The driver will visit all the destinations he has accrued and you can jump off when he stops at your destination. This is obviously forever changing as people flag them down and get in the back.
These are a great way to get around Chiang Mai cheaply and effectively.
The tradeoff is it may well not take the most direct route to your destination so allow a little more time than say a normal taxi. Chiang Mai is a small City though so nothing is very far away.
In practice, these are pretty effective and quick to get to where you want to go. An entire trip across the City will range anywhere from 20 – 50 baht.
If the Songthaew is stationary then it is awaiting a small number of passengers before leaving and if it's a slow day with limited passengers the driver may ask for a little more money in order to leave right away. This is normal and nothing to worry about, it entirely depends on how much of a rush you are in.
These are for people with time to get to their destination, not for those wanting to get to the airport in the next 10 minutes.
Interestingly at the airport, a slightly different set of rules apply in order to protect the transportation industry. Songthaews will drop people off for the flight but will not pick up passengers when you arrive back in Chiang Mai so the taxi drivers can take the trade.
Tuk Tuk (pronounced Took Took)
These contraptions are ubiquitous across Asia and you will find plenty of them in Chiang Mai bombing around the City.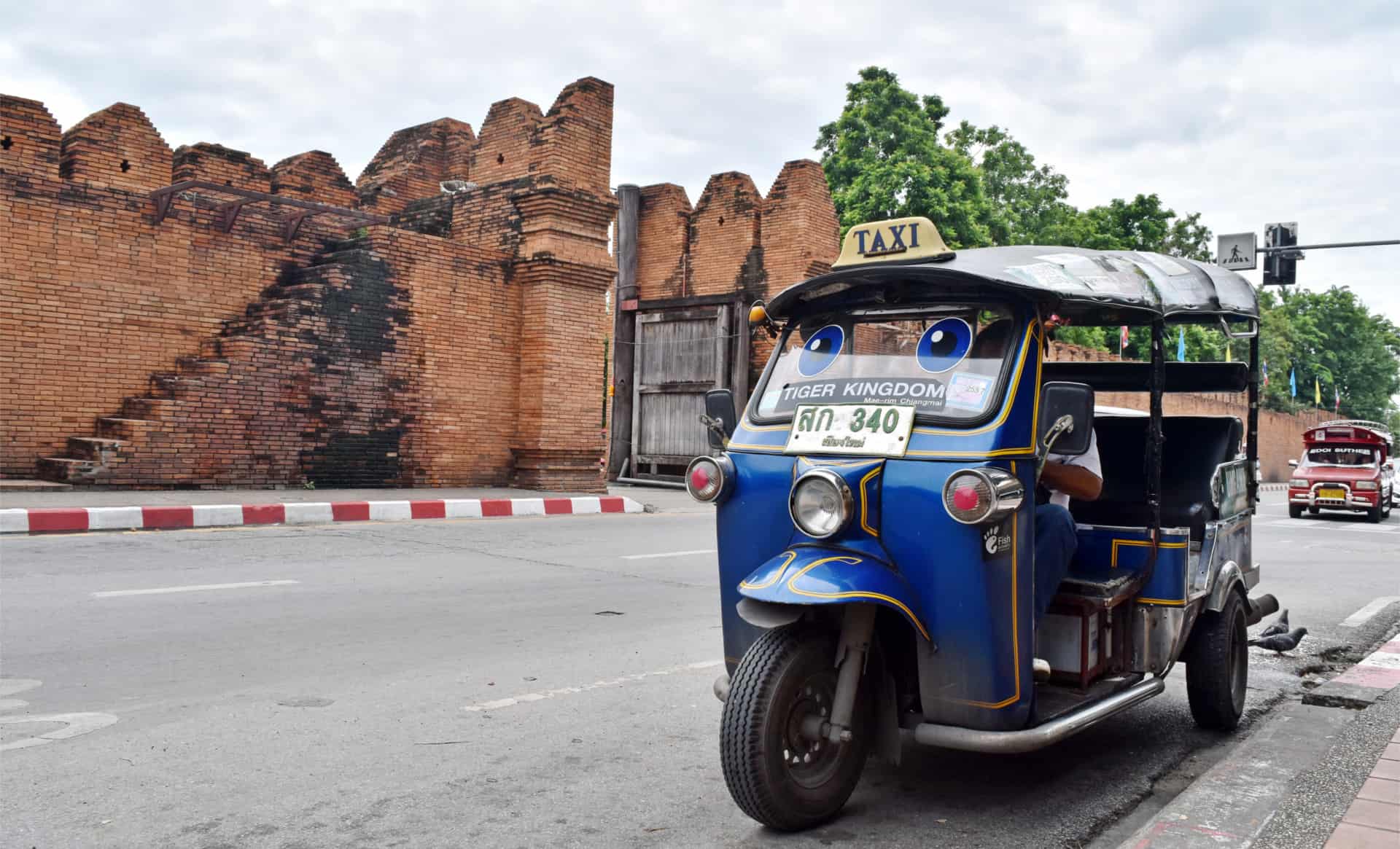 Usually open to the elements, many have plastic coverings for the rainy times of year and many of them are customized to the owner's personal preference of colours and music. It certainly makes for variety viewing if you want to take a ride in one from a parked selection.
These are the vehicles that if you are walking, will slow down and the driver will say 'taxi' to you in the hope of soliciting a ride.
While you should take one for novelty value or if there isn't another option available; they tend to be a bit more expensive than a Grab ride.
While not prohibitively expensive, a trip across the City would range from 100 – 300 baht, although the price is a little negotiable.
The question, however, becomes 'Why would you not take a Grab when it's cheaper and in an air-conditioned new vehicle?'
A lot of Tuk Tuk drivers harness a less than sympathetic view of Grab drivers, a lot of times because of customers that are using the Grab service to call a taxi to where they are located, rather than walking to the groups of Tuk Tuk's.
Private Taxi
Along with walking, this is the option most people will be familiar with.
Not as common in Chiang Mai given the other options that are preferred, nonetheless they are available.
A quick google search will pull up a few firms whereby you can book.
The advantage here, over the other forms of transport listed, is that it is more precise.
A specific pickup time is arranged and the route is straight to the destination you require as fast as possible for a set fee.
Slightly more expensive meaning it's probably not the best option for a trip to the cinema, but rather, getting to the airport or bus station on time.
Grab
In early 2018 Uber and Grab came to a deal whereby Uber is now recommending customers download the Grab smartphone app and use that service in Thailand. Thus if you want a smartphone based ride booking platform then Grab, based out of Singapore, is the only option.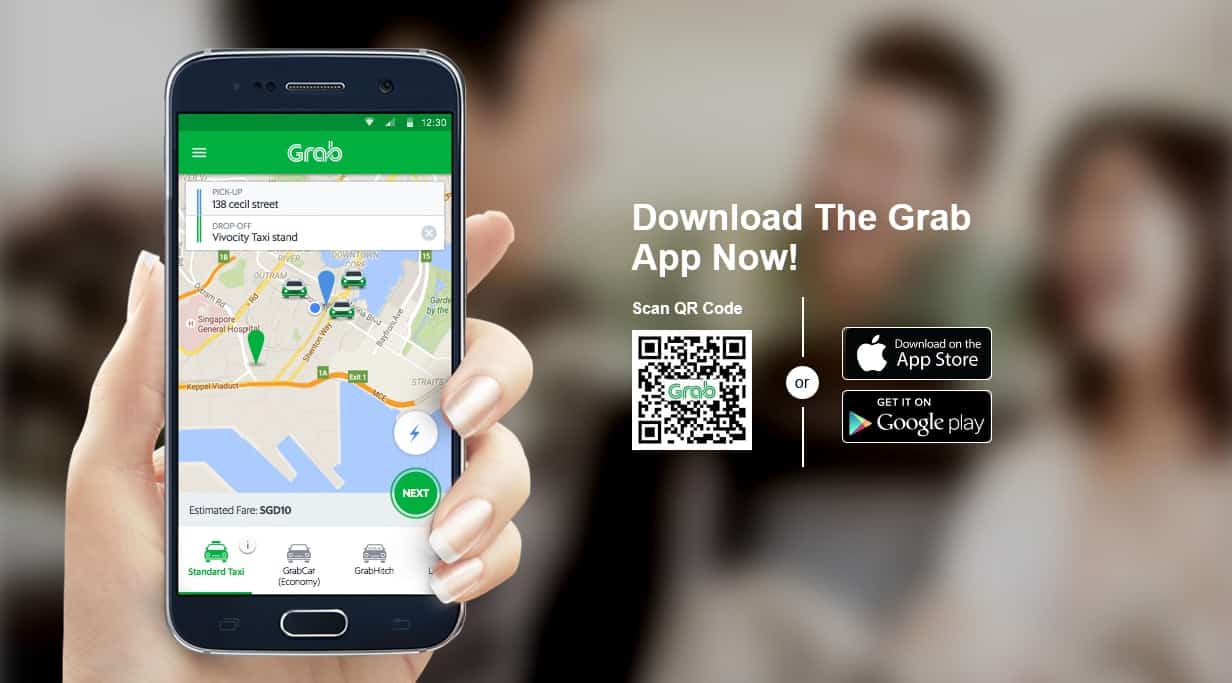 Uber no longer exists in Thailand.
Using Grab is simple.
Download the Grab app on your smartphone and open an account. Once you have an account you just tell the app where you want to go and let the app supply you with a driver.
If you're familiar with and have used Uber before, it works in exactly the same way.
In a small city with plenty of nightlife, this is a good option to get back home after a night out. At the time of this article's publication, the rides are pretty cheap. Travelling from Thaphae Gate to Nimman will set you back around 70 – 80 baht and unlike with Uber, when using Grab you can also pay by cash when you reach your destination, so don't worry about having to connect your bank account to the app.
Scooter / Motorbike Rental
Definitely the preferred option of the many expats and retirees here as a permanent solution to their travel needs, they are also useful for tourists who want to explore the areas around Chiang Mai without a guide.
Which you should, … and there are many.
While walking or getting a Songthaew around the City is fine, Chiang Mai is quite a hilly and mountainous area outside the urban zones and I'd recommend at least a 125cc to cope with the load on the engine during a hill ascent, especially if you have a passenger on the back.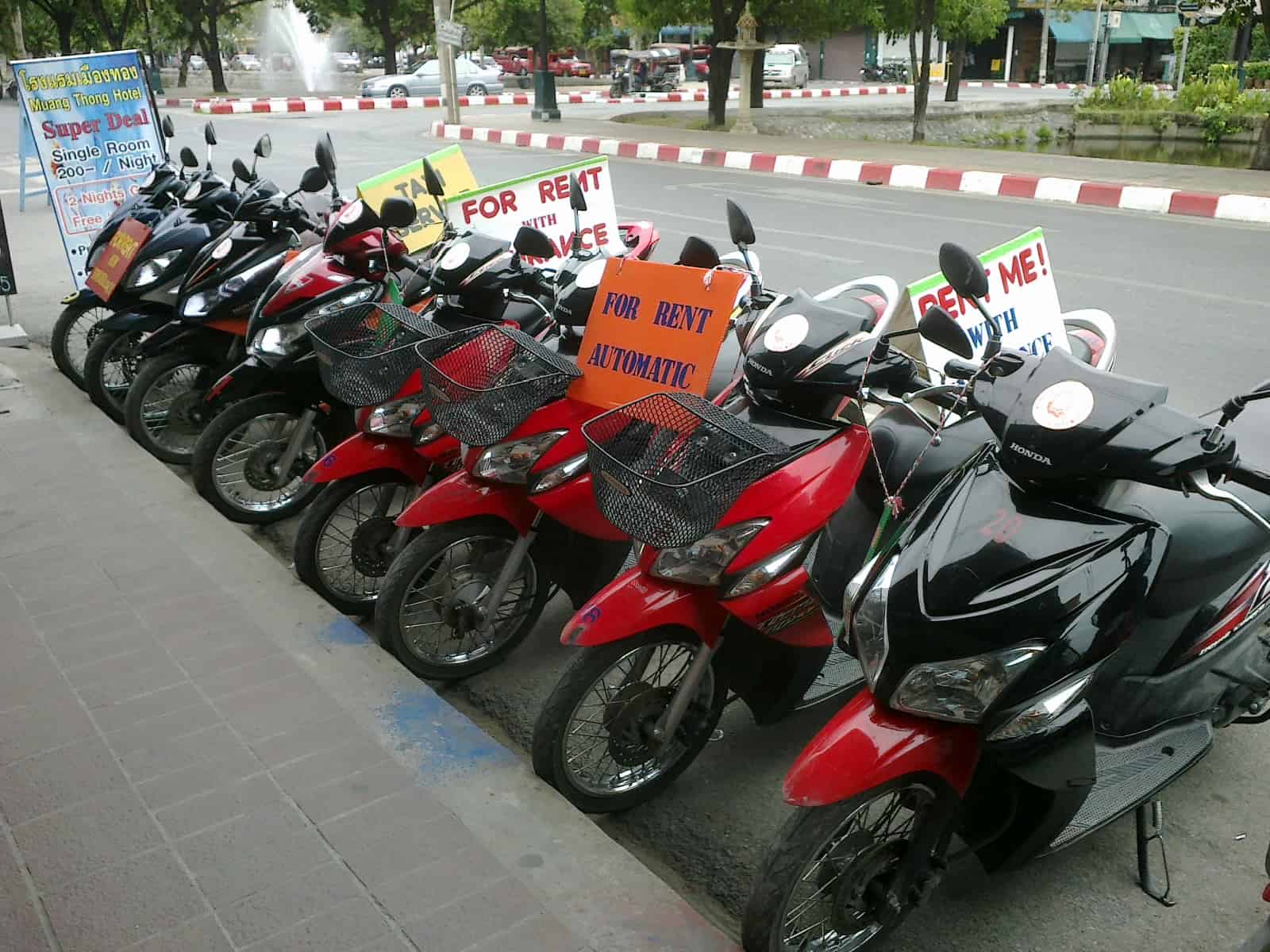 Shop around. If you are in Chiang Mai for a day then hiring from the city centre is fine if you're staying longer you may want to shop around for a good long-term deal.
Scooter rental companies will quite happily rent you a scooter if you provide a passport so it's conceivable that you could rent a scooter without any driving experience on a bike. If this is you then we would highly suggest taking the bike to somewhere where you can do a little practising before you take to the streets in rush hour.
We would recommend a reputable dealer often visible by the large selection of bikes outside and in good condition.
In today's online world a quick check for a company website and reviews of their service plus length of time trading will give you some assurance that you are getting a quality service.
A quick tip, definitely check the tires of the bike, as they are more important for a bike than a car.
To rent a scooter you will normally need your passport (to surrender or cash for the deposit).
Give the bike you are renting a good look around as well, and ask the shop to note any damage you see.
Perhaps consider taking photos in case of disputes later, not that they are that common. Test everything you can early on, especially the brakes.
For those of you new to bike riding it's important to not slam on brakes like you might in a car. If you lock the wheels in a car you slide for a while before gaining traction. On a bike, you will fall off.
Again, I can't stress this enough, if you are new to a bike, take a very slow practice to learn the skill, and it is a skill.
Learn safely.
A few final things to check are the fuel levels, what the insurance covers and what you should do in the case of an emergency.
As a final precaution, the fines for no helmet or not having proper documents are small in Thailand, around a few hundred baht before being allowed to go on your way.
With a scooter, you now have the freedom to explore areas beyond the reach of walking and to take in the experiences of a ride around Northern Thailand.
Catch a Bus
If you've ever visited Chiang Mai in monsoon season and been caught out in the rain you may have taken shelter in these funny little places with seats by the side of the road. Far from being 'rain protectors' these places are actually more formally known as bus stops.
Although Chiang Mai has had buses for a while now it's uncommon for tourists to use them due to alternative cheap options.
However, as of April 2018 in a 50 million baht expenditure, Chiang Mai unleashed the 'Smart Bus Project'.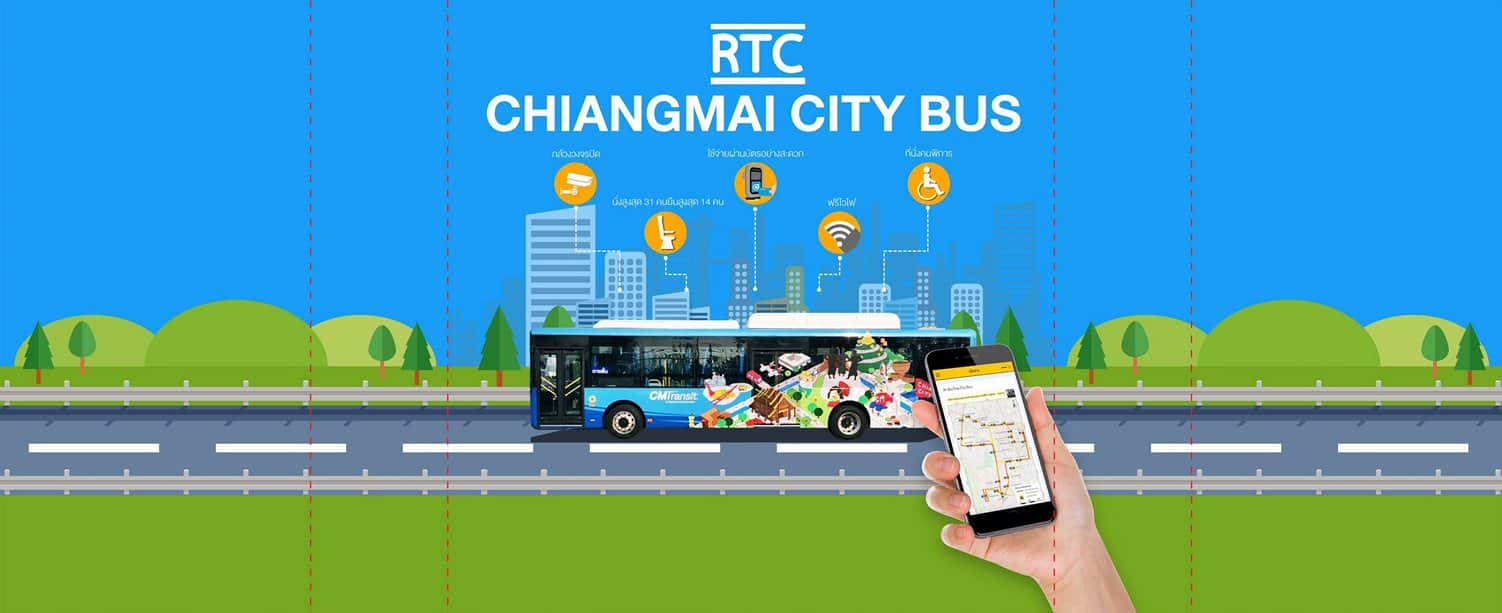 For a flat fee of 20 baht, you can catch the bus on a continuous route from Chiang Mai International Airport, Suan Dok Hospital, Nimmanhaemin Road, Kad Suan Kaew, Chang Phueak Gate, Three Kings Monument, Thapae Gate, Kad Muang Mai, Wat Gate, Night Bazaar and Wua Lai Road.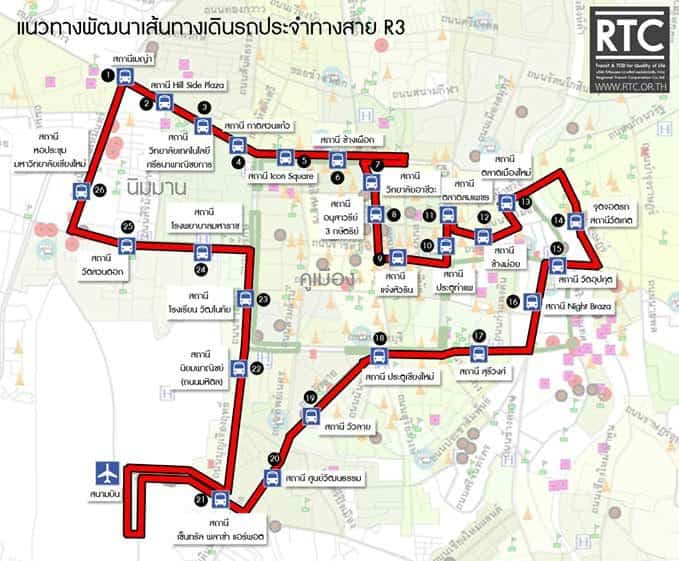 The buses are dark blue and run from 6 am to 11 pm daily. They are supposed to come along in intervals no longer than 20 minutes.